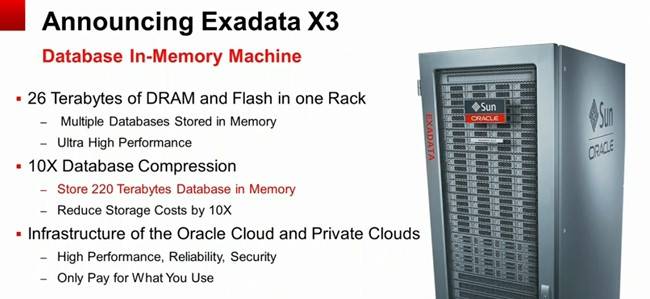 SAN FRANCISCO: Oracle Chief Executive Officer Larry Ellison, seeking to reverse slowing growth, unveiled a high-end server with more memory and an updated flagship database to compete against SAP.

Computing power and storage, applications software and Oracle's database will also be sold as a cloud service businesses can rent instead of buying outright, Ellison said on in an address at the company's OpenWorld conference. Ellison is depending on new products and a shift to cloud services to boost sales at the world's largest supplier of database software.

Oracle's share-price has underperformed SAP and Salesforce.com, its rivals in providing cloud computing for businesses. The revamped 12c database is Oracle's first new version for its flagship in five years. "Oracle should be in this business," said Rick Sherlund, an analyst at Nomura Holdings, who recommends buying the shares.

"Oracle has to reposition for the cloud." The 12c database will let customers move their computing jobs from data centers to the internet, Ellison said. "You can access all of these services across the network," he said at the conference in the Moscone Center in San Francisco. "It makes sense for Oracle to be in all three tiers of cloud services."

More memory
The new Exadata servers -- which pack computing power, storage capacity and high-speed networking into a single chassis to speed performance of Oracle's database - can set the company apart from competitors, co-president Mark Hurd said last week. The company's addition to its Exadata line of servers, called the X3, will be able to house as much as 22 terabytes of flash computer memory and four terabytes of DRAM in a single server rack to greatly speed up business reports. That's four times as much flash storage per rack than a previous version of Exadata, Ellison said.

"If you thought the old Exadatas were fast, you ain't seen nothing yet," said Ellison, wearing a suit and black turtleneck and standing before eight giant screens bearing his slides. Sales for the Redwood City, California-based company declined 2.3% in the fiscal first quarter ended August, dragged down by a drop in the hardware business acquired from Sun Microsystems in 2010. The revenue number missed analysts' estimates as computer hardware sales declined for a sixth straight period.

Cloud computing
New software license sales, a measure of freshly signed business - tapered to 5% growth in the quarter, from more than 16% a year ago. Ellison said Oracle is "ideally positioned" to deliver many components of hardware and software - including its database, application-connecting middleware and computer systems - as a cloud computing service delivered entirely through the Internet, or with some equipment sitting in customers' data centers.

He has said the 12c database will let Oracle serve multiple companies' data-processing needs from the same information storehouse and will arrive by early next year. The company's Exadata and Exalogic systems, plus its database, Java development tools and social media-analysis software, can be delivered to businesses as a service Oracle manages over the internet, Hurd said in an interview last week.

Growing data
Hurd, along with other Oracle executives including Ellison, will be speaking at the OpenWorld conference this week, which opened on Sunday and runs through October 4. International Business Machines (IBM), Microsoft and VMware are also vying to supply more of the platform software that can help companies move to cloud computing.

SAP's High Performance Analytical Appliance uses hardware from IBM, Hewlett-Packard and others to store data in computer memory for faster analysis. SAP is the top business applications maker. Before the first-quarter sales decline, Oracle's revenue growth had fallen to 1.3% in the previous quarter, compared with 12% a year earlier.

SAP and Oracle are battling to sell products that can load more of a program's data in memory to let businesses gain an edge by drawing insights from growing volumes of data, said Bill Hostmann, an analyst at consultancy Gartner. "People's ability to make decisions is still based on pretty small sets of data," said Hostmann, who has advised Oracle on its new products. "That's what's really driving the market."

SAP machines
SAP has positioned machines running its HANA in-memory computing software as a potential replacement for Oracle databases. The machines are "a realtime platform" for analysing data and offer a different proposition to Oracle's, which let companies "do the same things they've been doing for years, only faster," SAP spokesman Jim Dever said in an email on September 28. "SAP has an in-memory machine that's a little smaller than what we offer," Ellison said.