The Micromax A110 pricing is currently unknown. We expect a similar pricing to competition Spice Mi-500which too is a 5″ dual core (although we find the Micromax A110′s design to be much better).You can Pre-Book the Micromax A110 for Rs. 500 from Snapdeal and also stand a chance to win free concert passes for the Enrique Iglesias concert later this month.Pre-book Micromax A110 Superfone Canvas 2 @ Rs. 500 – SNAPDEAL

The smartphone phablet should most probably launch with a price tag of Rs. 12,000-Rs. 13,000.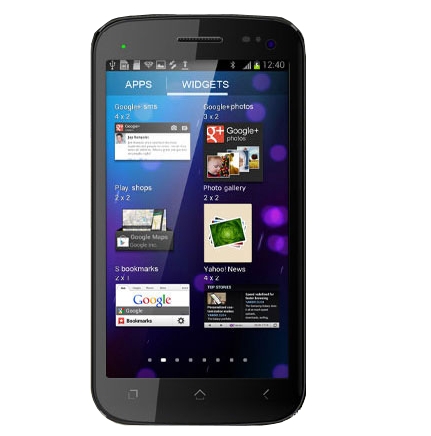 Micromax A110 5″ IPS display dual-core Android 4.0 launching at Enrique Iglesias concert on 17th or 21st October. Micromax A110 full specifications and Price in India.

It seems that India is being blessed with budget dual-core smartphones as there is a sudden explosion of such smartphones starting this month (October must be lucky). Starting with Spice Mi-500, to Karbonn A9+and Karbonn A21 and now the Micromax A110 being announced. It is paradise for smartphone buyers in India, especially because these smartphones are launching for as low as Rs. 10,000 and ranging till Rs. 13,000 only. That makes these phones the cheapest dual-cores and excellent products too (as Micromax, Spice and Karbonn have upped the ante with higher quality products in recent times). Tough competition is driving this, and we are loving it. Let's have a look at the Micromax A110 then.

Micromax A110 Superfone Canvas 2 Full Specifications
The Micromax A110 packs some fantastic specifications for a budget handset. Let's have a look:
1 GHz Dual Core CPU
5″ (12.5 cm) IPS Capacitive Display
qHD or HD resolution
8 MP Autofocus Camera, LED flash
0.3 MP VGA front camera
3G, WiFi 802.11 b/g/n, Bluetooth 3.0
2000 mAh battery
Android 4.0.4 ICS

Design & Overview: The phone looks absolutely fantastic. With an excellent design (curved around the edges, thin bezel, beautiful while color), a 1 GHz dual core processor which will allow you to breeze through all apps and games, and the beautiful 5″ spread (IPS display) of unknown resolution.
Display: We believe that the phone will pack a qHD or HD display (960×540 or 1280×720) because of the leaked photo of the phone. By looking at the length and breadth ratio of the display and comparing it to the Micromax A100 Superfone Canvas, the A110 Superfone Canvas 2 looks to have a 16:9 widescreen display thus making us suspect for a qHD or HD display. Higher the better after all. In all likelihood, it might be a qHD display.
RAM: The RAM amount is uncertain. The most likely amount is 512 MB, but we are hoping that Micromax knows and uses such an opportunity to make a flagship right and put in 1 GB of RAM.
Chipset:

Just being a dual-core doesn't make the phone super fast. Look at the HTC Desire X, which has a lowly Snapdragon S4 Play (ARM Cortex A5 dual core) which puts it only slightly ahead of a Single Core ARM Cortex A9 (20% to be precise). We strongly believe that the phone packs a Mediatek MT6577 dual-core chipset (or it can be a Snapdragon dual-core too). If that is true, the GPU will be a PowerVR SGX531 which is far better than the Adreno 200 enhanced in the current Micromax A100.
Camera:

The 8 MP camera is welcome. We are sure it can shoot 720p videos. Again Micromax might surprise us with 1080p video recording, although we won't be hoping for that much from a budget device.
Battery & OS: The 2000 mAh battery remains unchanged. A dual core should have brought in a bigger rated battery, especially on a huge 5″ display.
Nevertheless, 1 day of battery life seems plausible in all likelihood. Android 4.0.4 ICS is welcome, although we are now hoping for Android 4.1 Jelly Bean (here's again perhaps hoping for too much).