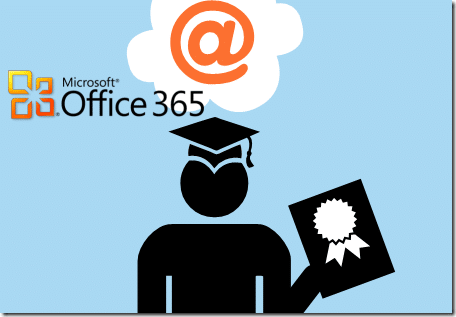 Microsoft Office 365 for Education is now available, providing productivity, communications and collaboration experiences to educational institutes at no cost. Office 365 for Education is a cloud-based suite that includes the familiar Microsoft Office desktop applications, as well as Microsoft Exchange Online, Microsoft SharePoint Online and Microsoft Lync Online. It provides educators with powerful tools to create anytime, anywhere learning opportunities across multiple devices in addition to email, calendars, Microsoft Office Web Apps (Online companions to Microsoft Word, Excel, PowerPoint and OneNote), video and online meetings plus advanced document creation features for curriculum planning and student projects.

"Getting the world's best technology in the hands of our students and teachers is critical to improving educational outcomes and making sure students are prepared for college and career," said Anthony Salcito, Vice President of Worldwide Education, Microsoft. "With schools' ever-tightening budgets, Office 365 for Education enables them to deliver new and innovative technology in the cloud that will modernise teaching and learning practices, at no cost."

Announced as part of the one-year anniversary of Office 365, prestigious K–12 and higher education institutions around the world are moving to Office 365 for Education. The largest worldwide adoption of Microsoft Office 365 for Education is by the All India Council for Technical Education (AICTE). AICTE decided to move all of its 10,000+ colleges on Office 365 for Education earlier this year and the deployment is currently underway. "Microsoft Cloud Platform will make for a truly progressive ecosystem and contribute to the country's technical education by providing a better communication and collaboration platform for institutes and students," said Dr. S.S. Mantha, Chairman, AICTE.

"Office 365 has millions of subscribers worldwide and in India, and we are now excited to announce the availability of Office 365 for Education, bringing enterprise-class productivity to education institutions across the country," said Sanjay Manchanda, Director - Microsoft Business Division, Microsoft India.

"We are also proud to see Office 365 for education being selected by India's leading educational institutions such as – IIM Bangalore and AICTE, – as their choice for cloud services to empower students and faculty for enhanced productivity," added Manchanda.

Office 365 allows schools to teach from virtually anywhere, reach more students, teach software skills employers are looking for and provide enterprise-class tools that reduce IT costs.


Students can engage in ad-hoc instant messaging or video chats to collaborate on class projects in real time, regardless of where they are working or on what device. They can create documents with Office Web Apps that provide the same features as the desktop version of Microsoft Office, share class notes by synchronising OneNote notebooks, and create digital portfolios.
Teachers can create curriculum, record lectures and publish them on online class sites in the cloud where students are able to view, open, produce, edit and share their homework. Office 365 provides new ways to extend classroom teaching time and distance learning, tutor students online, and whiteboard ideas.
Educational institutions and parents will get peace of mind knowing students' content and personal data are protected and won't be scanned for advertising purposes, thanks to a rich set of privacy, security and protection capabilities that adhere to federal laws.
School IT departments can save money and free up more critical time by counting on Microsoft to manage routine tasks such as applying server updates and software upgrades. With the influx of digital content, data center demands and lessened and with 25GB mailboxes, people won't be forced to purge files.