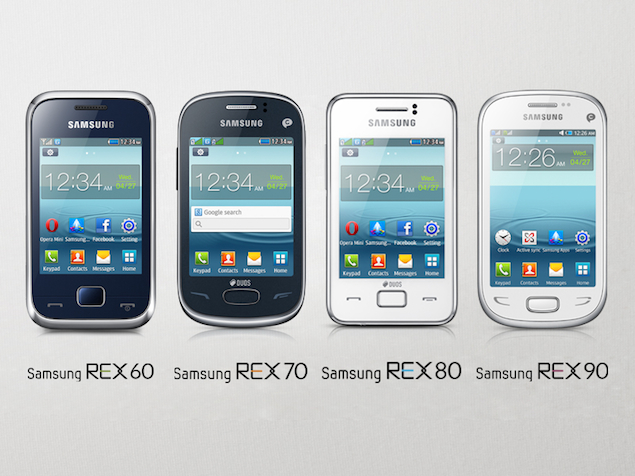 Samsung has launched a series of 'smart feature phones' under the moniker of REX. The four touch-screen, dual-SIM models, REX 60, REX 70, REX 80, REX 90, under the series, have been priced between Rs. 4,280 and Rs 6,490.

All the phones support Smart Dual SIM allowing users to receive calls on the standby SIM as call waiting when the user is on a call through the primary SIM.
The REX 70 and REX 90 also offer true 'hot swap' for the SIM cards, which essentially means that the user will not need to restart their phones. None of the phones are 3G enabled, however, the REX 80 and REX 90 phones support Wi-Fi connectivity. The company claims that the phones have been developed in India, and will be introduced across other growing markets.

The phones are based on Samsung's own feature phone OS featuring Samsung's Touchwiz User Interface (the company has integrated the same UI on its Galaxy range of Android phones) and support Java apps.
The phones come preloaded with Facebook, Twitter, ChatOn, Google Talk and other messaging and social apps. Samsung has also preloaded 10 full version games from Gameloft. All phones also feature an FM radio tuner and support FM recording.

The REX 60 sports a 2.8-inch QVGA responsive (resistive) touch display, has a 1.3-Megapixel camera, and a 1000 mAh battery, promising a talk time of up to 15 hours. The phone also features a microSD card slot supporting cards up to 16GB of memory.

The REX 70 features a 3-inch capacitive QVGA display, a 2-megapixel shooter and expandable memory up to 32GB. The phone has a 1000 mAh battery, promising a talk time of up to 13 hours

The REX 80 also sports a 3-inch capacitive QVGA display, and a 3-megapixel camera. It also offers Wi-Fi connectivity and has a 1000 mAh battery promising 14 hours 40 minutes of talktime.

The REX 90 has a 3.5-inch capacitive HVGA display, a 3.2-megapixel camera, Wi-Fi connectivity and a 1000 mAh battery promising 15 hours of talk time. Samsung is also offering some content services including My Movies, music and live TV services, with the Rex 90.

Specifications for REX 60
2.8-inch resistive QVGA Display

Smart Dual SIM

1000 mAh battery promising Up to 15hrs Talktime

Touchwiz UI with 8 customizable homescreens

1.3-Megapixel Camera

Preloaded Applications - Facebook & Twitter

Activesync: Push Mail with Contact & Calendar Sync

Opera Mini Browser

10 Full Version Gameloft Games

9 Regional Language support

Messengers: ChatON, Yahoo, GTalk & Facebook ChatFree Games, Music & Apps from Samsung App store

Specifications for REX 70
3-inch Capacitive QVGA Display

Smart Dual SIM & True Hot Swap

Touchwiz UI with 8 customizable homescreens

2-Megapixel Camera

1000 mAh battery promising up to 13hrs Talktime

Preloaded Applications - Facebook & Twitter

Activesync: Push Mail with Contact & Calendar Sync

Opera Mini Browser

10 Full Version Gameloft Games

13 Regional Language support

Messengers: ChatON, Yahoo, GTalk & Facebook Chat

Free Games, Music & Apps download from Samsung App store

Specifications for REX 80
3-inch Capacitive QVGA Display

Smart Dual SIM

1000 mAh battery promising up to 14.7hrs Talktime

Touchwiz UI with 8 customizable homescreens

Wi-Fi (802.11b/g/n)

3-Megapixel Camera

Preloaded Applications - Facebook & Twitter

Activesync: Push Mail with Contact & Calendar Sync

Opera Mini Browser

10 Full Version Gameloft Games

9 Regional Language support

Messengers: ChatON, Yahoo, GTalk & Facebook Chat

Free Games, Music & Apps download from Samsung App store

Specifications for REX 90
3.5-inch Capacitive HVGA Display

Smart Dual SIM & True Hot Swap

Touchwiz UI with 7 customizable homescreens

Wi-Fi (802.11b/g/n)

3.2-Megapixel Camera

1000 mAh battery promising up to 15hrs Talktime

Preloaded Applications -

myMovies, myMobileTV & myStation

Facebook & Twitter

Activesync: Push Mail with Contact & Calendar Sync

Opera Mini Browser

11 Regional Language support

Messengers: ChatON, Yahoo, GTalk & Facebook Chat

Free Games, Music & Apps download from Samsung App store