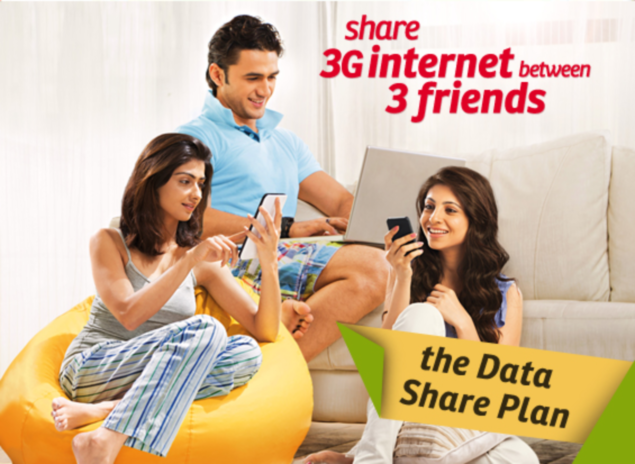 India's leading telecom brand

Airt

el

is
applying the concept of its popular

advertisement

song
"Jo mera hai woh tera hai Jo tera hai woh mera" meaning what's mine is yours and what's yours is mine
in its 3G plan as well.
Airtel has announced a new 3G data plan for the customers, which allows one to share unlimited data usage amongst two of their friends or family members or among three of his/her own devices.
Under the Airtel's Data Share Plan, the subscriber will have to shell out Rs. 1000 per month and can use 3G data on up to three smart devices. There is a cumulative cap of 5GB, on exhaustion of which the Airtel user can continue to use unlimited data but at the speed of 80KB per second.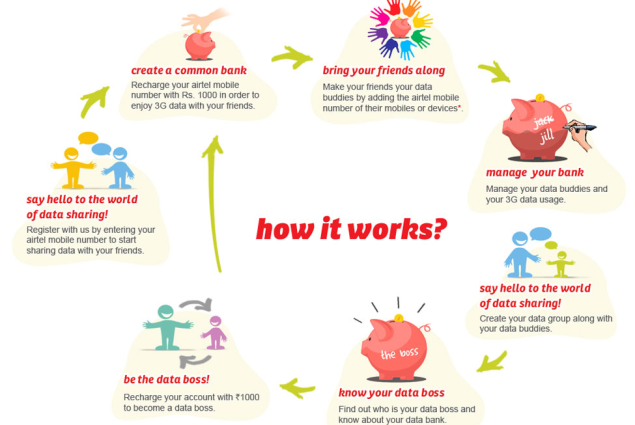 This Data Share Plan is open to all Airtel subscribers (be it postpaid subscriber or a prepaid one) but all the three connections should belong to the same telecom circle.
To subscribe to this plan, the subscribers can either click here or subscribe via sending an SMS.
Though on the surface, it looks Airtel is promoting the idea of sharing 3G data between family and friends but it will also be beneficial for people who have more than one connected device and are looking at having a unified data bill for all the devices. Irrespective of how the subscribers uses this plan, this is a good initiative to increase the number of 3G devices in the country and hopefully other operators will follow suit.